Caregiving Guide For A Declining Loved Available on Amazon Now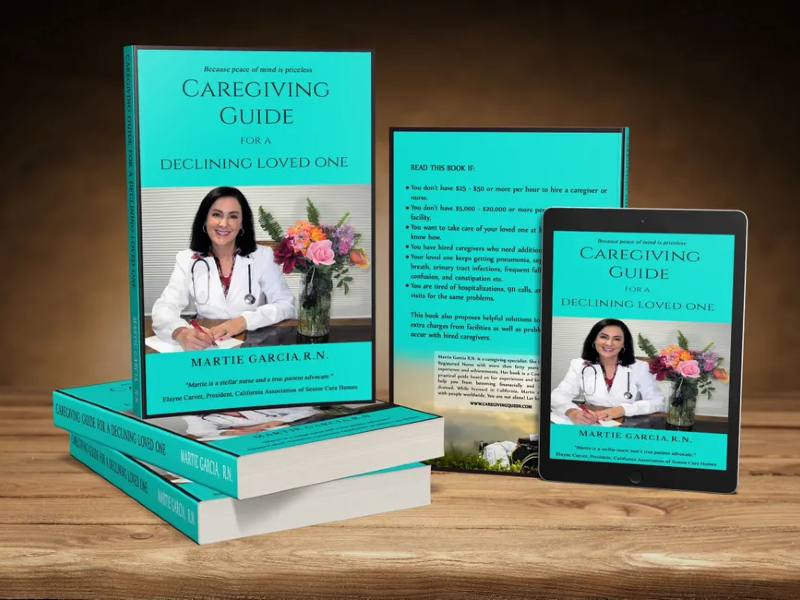 I have been a nurse for forty years and am a caregiving specialist. I have taught families, spouses, and partners how to do 24/7 hands-on care. My book is a very easy to read and understand handbook without medical jargon. It covers everything you need to know along with teaching regarding avoiding potential crisis situations. For example, a urinary tract infection going unnoticed and turning into a life threatening 'sepsis', a systemic infection that can lead to death.
My book, Caregiving Guide for a Declining Loved One (link here) is only a $2.99 ebook version on Amazon. Let's help simplify and lesson your trips to the hospital and doctor's office.
Especially now with Covid-19, many of you have your loved ones at home to avoid risky facility placement. If your loved one is in a facility and you don't have access to them, my book will help you ask important questions over the phone with the knowledge you will learn.
You must read my book if:
You do not have $15 to $50 dollars or more per hour to hire a caregiver or nurse.
You do not have $4,000 to $10,000 or more per month to pay for a facility.
You want to take care of your loved one at home, as long as you are physically and mentally capable, but you need some guidance.
You aren't sure which direction to go. Your parents can no longer take care of themselves. Not only do they not want hospice, but you are afraid that they will give up on getting better if they enroll in a hospice program.
You don't know who to turn to and all you want is to keep some normalcy in your life.
Your spouse doesn't want to go to a facility, and you don't want him or her to go either; especially if you can do this on your own.
Your partner is at a facility where the staff is always busy, and they don't communicate very well. You would like to help care for your partner (if the facility allows it).
Your parent has dementia or Alzheimer's. They are refusing their medications and getting more agitated and combative. You wait, multiple times, for a psychiatric facility bed to become available. Even after they're discharged, problems persist, and nothing seems to work.
You are concerned that, if you or your hired private caregiver can no longer manage them, there will be no choice but to put them in a locked memory care unit at an assisted living facility. These facilities are thousands of dollars per month and a place where your loved one never wanted to live.
Your parent is at a facility. They are falling, acting combative, and not sleeping. The facility is telling you that you will have to hire a one-on-one caregiver or 'sitter' during the night, as they are waking up the other residents and staff, causing a safety issue.
They are in a facility already and you can't move them to a different facility as no one else will take them with their problematic behavior. Not to mention, this has been their home for years and they think of the caregivers as family.
You've taken your parent to multiple doctors to treat pneumonia, constipation or urinary tract infections (UTI's), etc. Despite the frequent medical care they receive, they are still declining. You wonder if they are on too many meds and if you are doing something wrong.
You are spending thousands of dollars on a caregiver agency. They keep sending you different caregivers who seem to lack knowledge and experience. You are having to teach and train each new in home senior care caregiver, which is frustrating and time-consuming. *With my consulting and "Individualized Plan of Care", you won't have to do this anymore!
You live in a rural area and your significant other is declining. You want to know how to care for them.
Book Will Be Available Through Amazon
The Caregiving Guide Book has a wealth of information and should give you the basic knowledge needed to support your needs and goals while caring for the elderly or a loved one.